I've not wanted to post and push my pretty sweater down on the page... but - oh, well.
Since I'm in California right now (working...), I'm (mostly) going to talk about Sabrina today.
Sabrina and her scarf
A couple weeks ago, Sabrina fell in love with a scarf. Not just any scarf, but this one: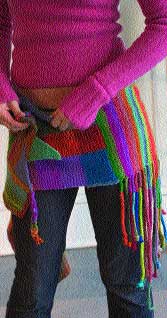 The scarf is from
Scarf Style
, and one of the more complicated patterns in the book. They had a shop sample at the LYS (
Needlework Unlimited
). Sabrina was captivated - she didn't want to leave it.
We bought a kit for it - she started knitting and was this far on Thursday:
She's doing a great job - she learned to pick up stitches, is keeping consistent gauge, and next gets to learn Fair Isle.
Unfortunately - we missed a basic instruction, where the pattern requires you to divide the yarn into 2 of its 3 strands. So, all of that got ripped out and she's starting over. (Granted, using the 2 strands means she won't run out of yarn in the middle of section 9)
I'm very proud of her for tackling this project - its big. But she thinks its awesome, so she's driven!
My knitting
I finished the baby sweater, and gave it to the mom. Its a bit big, but that's not a bad thing. Cute... I'll have pictures soon - I needed to thread in the ribbon tie on the way to the gifting opportunity, and so didn't get my usual flat pic of the finished object. And, I forgot my camera, so am waiting for the mom to email me the pictures we took of the baby wearing it. When I get them, I'll post one.
I've started another baby blanket (part of the never-ending stream of baby gifts) - which is my travel knitting.