I love my socks... and I love my Valentine's Day flowers.
Thank you to everyone who wished me a Happy Birthday - it was a very nice one. I took the day off, watched Olympics, finished my socks and made my favorite Chocolate Cake with Coconut Pecan Frosting for my Birthday Cake.
(Sniffle alert here)
I share my birthday with my Grandpa. He was a quiet man, dependable and down-to-earth - with a sideways sense of humor, and a true tie to the land. I have a wonderful memory of him sitting in his recliner in the pig house, talking to the pigs. For 22 years we celebrated together - and my Grandma always made German Chocolate Cake. He died 3 weeks before my 23rd birthday. Fortunately, he met both my husband and my older daughter. I miss him, but never more than on our Birthday.
(OK. Sniffles gone now)
I got nice presents - More duckies (thanks Betsy!), nice things from my parents...and.... a Ring Flash! I'm so excited!
Granted, I didnt' use it for this picture of my FIRST PAIR OF finished socks - because I'm trying to get it posted before I forget. Socks and Roses!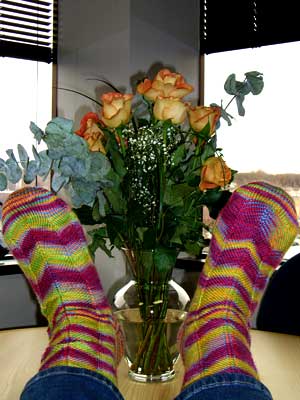 I have gotten many compliments on them today - I was at school this morning, and a bunch of people who have seen me knitting them there told me how nice they looked! And, they are so comfortable!