Well... here we are back again. In the intervening time since my last post, much has happened. I have gone, and come back from Stitches Midwest. I have finished 2 catnip mice - however, none for Wendy yet. One for me, and one for a very good friend who does animal rescue, and currently has 12 cats in the house. And, I've started another pair on request from my dad for his cats. Then I can finish up the 6 I have in progress for Wendy.... all of which need sewing and stuffing.
Of course, I'm also light on pictures today. No pics of the mouse that got away... however I have this pic of my cat playing with her mouse. Sorry for the blurry action shot!
I am doing fall cleanup around here... I'm picking an older projectt and getting it finished up. I started this blanket when pregnant with my now
18 month old
baby. I'm getting very close to done - I've got the strips of 4 fish stitched together, and I'm halfway through crocheting the first 2 strips together.
When its done, I'm laying it out like this.
These colors are the colors in the baby's crib stuff. I'm crocheting it together with a kelly green. Pictures to come later.
Stitches
I had a good time at Stitches. The opening session was somewhat interesting - giving 4 designers a bag of stuff and see what they do with it. I'm usually not overwhelmed with the opening day session, and this joined the crowd of not being utterly fascinating. Thursday afternoon I took a session with Judy Pascale on the Shapely Shawlette. Very fun! The shawl is just the right size. I bought some pretty purple shaded Koigu yarn and started the shawl on Friday. I'm over half done - I have about 20 rows left (but, since one increases from the center neck out, the last rows are rather long). Its a rather simple pattern to knit, making it great to work on during classes.
Friday was my knitting technique day. I took Double Knitting (with David Xenakis) and Tips and Tricks (with Lily Chin). Good classes, learned stuff, had a good time. The style show Friday night was a great amount of fun - lots of ideas on what I may pick up next. I was very impressed with the models of the patterns in the Fall Knitters. A
much
better issue than the last few.
Saturday was great - my picture day. I took a class on Photographing your Knitting from Alexis Xenakis. He takes some rather nice pictures, and I learned a lot just watching him set up his shots. Not to mention the crash course in Photographic theory. I could have taken that class all day... We set up a bunch of shots, and Alexis let us look through his (impressive) camera to see what he was seeing. For one set of pictures, I modeled another students sweater. Here is me, with the scrim being held by Shawn and David, modeling the sweater. (Alexis took the picture)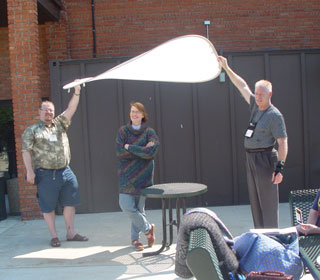 Sat. afternoon I took Photoshopping your knitting. I learned some, but mostly in the last half of class - I know Photoshop basics already, which is what David taught for the first part.
Saturday night was the student fashion show. Very cool - especially the woman who had knitted 3 huge shawls out of lace-weight yarn. I think each shawl had a 5 foot wingspan, and would have fit through a wedding ring. Absolutely stunning. Even better - I won something! (OK, everyone won something) But... the door prize for the tables went to the person with dot on their char (me!). The prize was a bag of 8 things - balls of yarn, kits, books, etc. Then, the bag and a sock kit from on the table were thrown in. Then, each table of 10 divded these things up between them. The person with the dot on their chair got to pick first. My table lucked out - there were only 6 of us. So, I got a purse kit and a needle felting kit. I'm going to
gasp
crochet the purse. I think it looks better.
Sunday was my design theory day. In the morning I took East meets West from Susan Lazear. Interesting ideas looking at Japanese clothing designers. Then, we got to play with our own paper or fabric designs on quarter-scale size 10 dolls.
That
was fun.
Then, I went to Sally Melville's talk on Creativity. I highly recommend taking this class if you ever get an opportunity. The class is about strategies for nurturing and fostering creativity. If for nothing else, thinking about what each side of your brain controls gives you many ideas of ways to think and deal with life more efficiently. I just wished this class wasn't Sunday afternoon when I was a bit tired.
Now I have ideas of many things to make - and a bunch more yarn to make it with! And, some beautiful glass buttons. And furry yarn to make the baby girl of a friend of mine a panda sweater. And a new drop spindle - I love drop spindles. I don't use them well, but I love them. I went climbing in the Yarn Lady's bin. I think its great fun sitting in the middle of large bags of yarn. I got 4 bags of yarn there. Elsewhere I bought a set of translucent plastic crochet hooks - because they looked neat. And, the Purl Stitch by Sally Melville. (Which added a bunch more projects to my to-do list). Great book...
Well, that's what I have to say today. Later this week, I'll go into the whole first-day of school stuff around here... This entry is getting long enough. Later!