I'm just running low on time these days - my husband is in California for a couple days, and I'm all over Olympic coverage. Annoyed tonight - I had my Replay (a Tivo-like device) set up to record the Olympics, and it didn't. So, I missed the first 3 hours. I'll have to record it in its replay after midnight tonight, and catch up. Somehow. I'm especially bummed since I love both men's and women's gymnastics, and I missed the first 2 rotations. Sigh.
On to knitting...
Thanks everyone for your nice comments on the baby booties. Both the Big One and I are thrilled! The booties were a big hit - the recipient had a baby shower over the weekend, and showed them off. Everyone thought they were TOO cute - and were SO impressed that a 10 year old made them!
I did a hat to match the baby booties the Big One did for her teacher.
But, in bigger news... I FINISHED MY CHARLOTTE! I haven't blocked it yet, but isn't it pretty!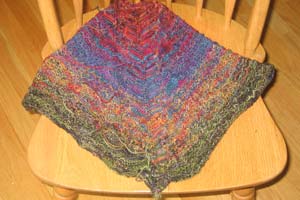 I did a simple crocheted picot edging on it - which I'm very pleased I did (along with pleased I grabbed an extra skein). I didn't need the extra, but this is how much yarn I had left....
No cutting there - I only had a couple inches left from skein 5.
I'm working on my Kersti - I love this yarn. Up 3.5 inches on the back. Granted, I'm going to try to knit a quick baby blanket by Sept 12th which will cut down on my Kersti knitting. I'm also lusting after the Lara that
Wendy
and
Kristine
are starting a knit-along for. Fortunately, that knitalong doesn't start till Oct. 1, so I may have a chance to finish one up before the next one starts!