Wonderful Time!
I had a wonderful day yesterday - met with
Nathania
. She's as lovely in person as she is on her blog. There are pics from our meeting over at her blog, I didn't have my camera with me. (Silly me)
She graciously offered to come and pick me up at my hotel at 4, after which we went to Knitting Arts in Saratoga. I had been nervous about meeting her - but was at ease quickly. I got to see her lovely Charlotte - I love the scalloped edging she put on it, and the colorway is beautiful. Knitting Arts turned out to be the latest incarnation of the yarn store I used to shop at way back when I lived in Cupertino - it was called the Braid Box, then. I fell in love with the store - and the yarn! Oh, the yarn... of course, I had to buy some. This is what I came out with (now that I'm home, I can pull out the camera):
From top to bottom, left to right:
Column 1 - Koigu in colors:
D115d, P615, 2 of 2160, 1315d, P304, P319, P831, P105d
Second Column:
Fiesta La Boheme in Coyote (I bought a second skein of this, and had it wound. Its not in the picture...
Noro Lotus 153
Great Adirondack Yarn Crayon Sequins
(And I did actually put a couple things back. Really - just ask Nathania :-) )
The Sequins yarn is really cool - see the closeup?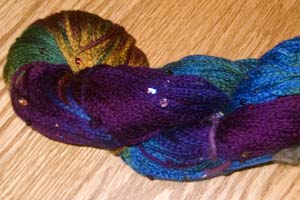 After enhancing my stash, we walked down the street to a bubble tea place. As Nathania said, I was a bit hesitant. The idea of having something chewy in my tea was... hmmm... different. I liked it - not
so
much that I'd have it every day, but I'd have it again. It sweetened up the green tea wonderfully, and the chewy beads were kinda fun. I got to see the yarn and beads for her Caryl's Kerchief that Nathania's making (the picture doesn't do the colors justice - they are soft and deep in person), and the neck band piece for the fuzzy blue halter - that will be stunning when assembled!
My husband called wondering if I'd be around my computer soon around 6:30... I was shocked that it was after 6! We had completely lost track of time. (Nathania's Kevin was text msging her while she was driving me back as well...oops.
Nathania said it best... Kindred Spirits.
Over at Nathania's, you can see the pic of my Charlotte - after my trip I am now only 19 rows from the end.
. However, Thursday night I also picked up my poor, neglected Kersti and....

Finished the Back!!!!

See:



I had forgotten what a dream this is to knit with. Even better than Koigu KPPPM... I now have the front started as well - about 5 rows up. Hopefully, I get both of these done soon... then I can start knitting up the La Boheme. (targeted at a stole). And the Lotus (purse). And the Sequins (scarf for my Grandma for Christmas)

Oh, yes. And, before I left the Twin Cities on Tuesday I stopped at The Yarnery in St. Paul to find nice things to send off to my secret pal... and bought more Koigu there. I picked up this lovely purple stuff... I'm thinking winter gloves.




For the weekend, I'm going to enjoy being back home with my family. Taking the Little One to see Sesame Street Live in the morning, and the Big One has a birthday party in the afternoon. (The host parents are nuts... they're going to Chuck E. Cheese's... for almost 5 hours. With 10 year olds. See what I mean?) And, spend some time with my wonderful husband who didn't complain once that I had gone, leaving him with the kids for days. :-)