Hectic Week = No Posting!
(I'm brushing up on my math!
)
Guild
Thanks to all of you for the responses about guild! I did go, met
Renee
there and had a good time. Thank you again Renee for offering to meet me there - it was great meeting you!
Fish
At Guild I was working on Fish. Many Fish. Its all the "fault" of the folks over at
Knitter's Review
. I got a couple questions about the source of the Fish Blanket I made for my daughter a
while back
.
So I'm using this yarn: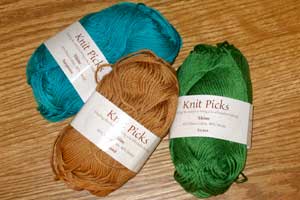 Its
Knit Picks
Shine, and is a wonderfully soft, workable cotton/modal blend yarn. It is my new favorite summer yarn. It is AWESOME. You should buy some. Really.
So. Fish blanket. (BTW - its from Knitters issue 51, summer 1998. OOP issue, sorry. However,
Knitting Arrows
has created a recipie for her own fish and posted it on her blog.) I'm making fish in green and turquoise, and edging it in sand. Its supposed to be ocean-like.
I've got 7 fish done.
I like knitting fish - the pattern is simple and straightforward, easy to memorize. Also very portable.)
Sundress
I've been so distracted by fish, I haven't been finishing this:
Its the Crumpets dress from
Chiagu
, for my little one.
Glasses
Also this week I got new glasses - see! I love them! They are so funky.
And. I'm being lured by lace knitting. With the various pretty shawls being finished lately, the lure of fine lace knitting is calling my name. After fish. Must finish fish first.