Melissa enters, pushing away cobwebs....
"Hello? Anyone there?"
pushing dust off her soapbox
Hmmm... didn't think dust would accumulate
this
quickly.
Thank you to these wonderful people!
I have long belated thank you's to deliver:
First and foremost - to my wonderful Secret Pal
Mary
! Lookit what she sent me!!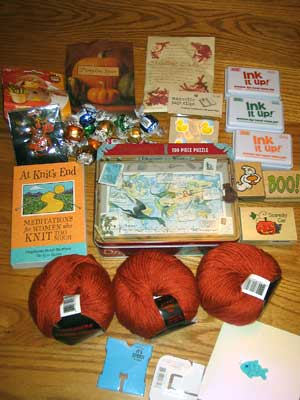 That yarn... cashmere. Yep - yummy, yummy cashmere. Its going to be a scarf, I can just tell. Once I'm done petting it.
And those cool stampers! And the Dragon puzzle (SO cool). The post-its in my initals? The book? The wonderfully yummy chocolate?
And, the rubber-ducky magnetic paperclips. Those are the best!
Thank you SO much for being my secret pal! I feel well and truly spoiled!
I've gotten a couple RAOK's in the last couple weeks, as well. A _really_ cute ecard from Christina, and some really great envelopes from
Lanie
. Thanks to both of you!!!!!
Life
Life is... hmmm... busy. Work has been tricky. Fall started, putting new stresses on my schedule. (you know, school for the Big One. Lessons. Confirmation (how did she get old enough for that?). Her choir (starting soon). My choir (started 2 weeks ago). My husband's choir (started last night). Looking into going back to school. French camp in 2 weeks. Finding out I'll be finishing camp/driving home when
Stephanie
is in Chicago - the closest she's been yet for a signing! (sigh).
Knitting is happening... slowly. I'm knitting a second Birch - Kid Silk Haze is addictive. I'm also trying a spiral scarf (from Scarf Style) in the leftovers of the green. But, I'm in a funk. A true funk. Granted, this week is slightly better than last.
Melissa wanders back off... maybe to knit. Maybe to sleep.