Wait... its Wednesday already? Where is the week going?
4th
I had a very nice 4th of July weekend. We went to the zoo, to visit friends, and had probably the perfect Fireworks experience.
Said perfect experience: one of my very good friend's husband plays with the
Bloomington Medalist Concert Band
. The same very good friend has a daughter slightly younger than out younger daughter... and they two girls are also very good friends. We arranged to watch the band together, then watch fireworks. It sounded like a plan.
The band played in the last slot before the fireworks for Bloomington's 4th of July celebration (which happened to be on the 3rd, but who's counting?). We got there just before the band started, and hunted for a place to sit... finally finding one on the crest of a hill (steep slope behind us). We had a good view of the band, and a good view of the lake where we thought the fireworks would be shot off.
So. The band is
very
good. The company is also very good - the 2 hours passed like no time. (first part of a perfect fireworks experience - the late evening must be entertaining.) The girls sat side by side in their strollers and giggled like mad. After the band finished, the fireworks started - not in front of us like we thought, but to our rights. And over our heads. It was SO cool. We were so close a piece of firework casing practically dropped in my husbands lap!
Not only was it an overwhelming show from the nearness standpoint - but it was a very well-done fireworks show as well. They played music - and coordinated the show to the music. Most of the time the fireworks were mood-punctuators (mostly in time with the music, and a little bit of ornamentation to the music), except during one song. They played "Its a Wonderful World"... you know the lyrics. Every time they mentioned a color (trees of green, red roses too, etc) they shot of a firework in that color. Every time the phrase "Its a Wonderful World" came up, they shot off a blue-green orb firework with a golden equator. But, the best part was the section that goes:
The colors of the rainbow (1), so pretty in the sky
Reflected in the faces (2), of people passing by
I see friends meeting friends, saying how do you do
They're really saying: I love you. (3)
So. At Rainbows (1) , multicolor fireworks exploded.
At faces (2), smiley face fireworks
and at I Love You (3), heart shaped fireworks.
Someone had just TOO much fun. I loved it.
(That was indication 2 of a perfect fireworks experience - a great fireworks show)
Then, indication 3 - due to our unfamiliarity with the park, we picked a parking spot about 2/3 of a mile from the bandshell. But, by the time we returned to our car - the lot and the road were clear, so there was no waiting in traffic to get home.
Big drawback - Bloomington is a half-hour away from our house :-)
Knitting
Birch is coming along. I love it. No pictures.... but to distract from that:
Flowers
One of the best parts about my job is its one of my written goals to become a better photographer. So, here are some of the pictures I took on my last photo trip that I really like.
Much like
Cara
, I tend to underexpose. However, I also tend to do much more color editing in Photoshop. (Cara is an awesome photographer... I want to be like her someday :-) ). I also am stuck in a flower mode...
So. My 3 current favorite flower pictures. All three of these were taken at the Como Park Conservatory in St. Paul. I use a Canon 20D camera.
I loved the shape of this flower, as well as the way it sticks up above everything. I also am in a desaturation kick...
I, again, love the shape here. And ditto on the desaturation thing. I have a mirror image version of this image, where the main flower is in focus, and the ruffle blurry... its so much a worse shot - though framed identically.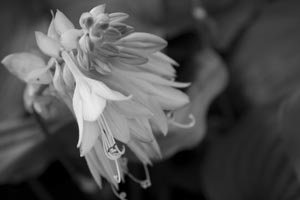 This is my favorite. (the previous is a close second). This shot is where I can tell I'm making good progress on the framing front.
I'm having a lot of fun with the whole photography thing... as you can tell!