Fish Blanket Finished!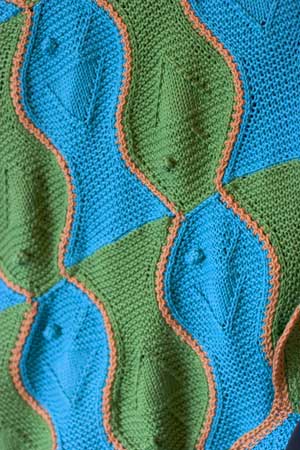 Isn't it beautiful? I think it turned out wonderfully.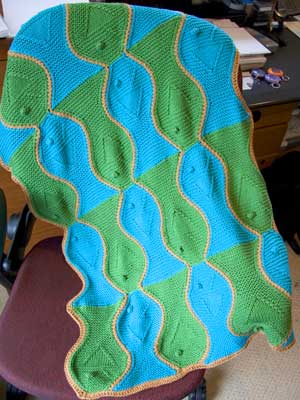 I'm glad I got a second skein of yarn for the edging - I definitely needed it. I did one round of single crochet, then a second round of double crochet. On the double crochet round, I added stitches going around the curves - which really helps the blanket lie flat. This is the biggest annoyance (for me) with my daughter's fish blanket - the edging keeps going behind the outside curve of the fish...sigh.
This was gifted on Sunday by my wonderful husband - he's in CA right now, and got to see the parents and baby this is for. I hear they liked it quite a bit.... I hope they do, cause I'm especially proud of this one.
Pattern Specs:
Fish Blanket from Knitter's Magazine issue 51 (Summer 1998)
(modified to 24 fish)
Yarn: Knit Picks Shine
Size 4mm needle
Project started : approx. 5/20/05 Project Finished: 7/23/05 (knitting finished 6/24.... )