Last Sunday the Yarn Harlot was only 1.5 hours away from me - in Eau Claire, WI. I decided to head over and listen. I headed over by myself, and found some of the MN Knitbloggers there. I wore my Cashmere Clapotis. Somehow, I got petted A Lot as the night went on... go figure.
The talk was held in the Masonic Temple. Stephanie took picutres of all of us with the sock.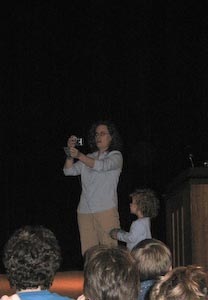 Then I laughed for an hour. Really. I almost fell off my chair giggling at the Cardigan for Penance. (Three Hail Mary's and a Cardigan). It still makes me giggle.
After that, we all wandered over to Yellow Dog Knitting, met the fabulous Dixie who is an amazing Cashmere pusher. (I took a couple pictures of her, but since I still want her to like me, I won't publish any.)
I got my picture taken with both the sock and the Stash Weasel. (I LOVE the stash weasel).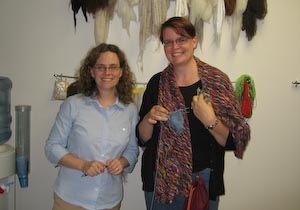 And, I got to move another blogger from Imaginary Friend Status to Not-So-Imaginary Friend Status -
I met Vicki from
Knitorious
.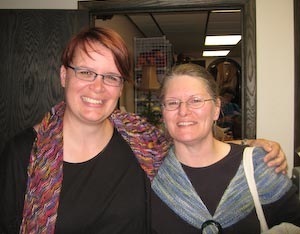 She is as lovely and nice in real life as you'd expect from her blog.
I was very, very glad I made the trip over. It was a wonderful evening.
Tuesday is Talk Like a Pirate Day! Ahoy, Mateys!