Since I can't get much knitting done, I'll do some blog housekeeping tonight.
Firstly
, Thank You Everyone for your kind comments on my Charlotte. I love it. Its beautiful - and the pattern is so addictive I've started a poncho.
Secondly
, a couple days ago
Nathania
asked what the yarn from my secret pal _was_, and I responded with this:
"Its K1C2 Tartelette in the Kaleidoscope colorway. (Look at these colorways! http://www.yarnmarket.com/product.cfm?action=show_product&product_id=578)"
I still love it. I hope my hands settle down soon so I can knit up a scarf with it. I am very tempted to get more to make a wrap or a poncho as well.
Thirdly
, I want to apologize if my tone was whiny yesterday. I don't always deal well when my hands hurt. I have recently noted that I start pulling inward when this chronic pain comes back. I either do stupid things (like today, when I didn't ask anyone else to do the whiteboard writing this afternoon) to not "inconvenience" anyone, or I get rather selfish and self-absorbed. I'm working on it...
Fourthly
As
Wendy
recommends - pictures!
The baby blanket
I think I'm liking it. Its a very straightforward pattern.
The Charlotte Poncho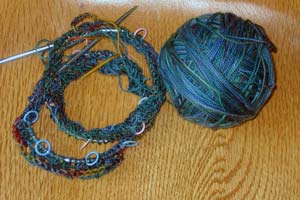 This is out of the Cherry Tree Hill yarn I bought a while ago. I am not including the lighter green, as I am only including 4 colors in the poncho. I'm deeply in love with the red color... (see my August 2 post for the colors)
And, a gratuitous
Cat Picture
This is the Amber cat. She's the ruler of the household. She makes the dog run and hide. She is also definitely my husband's cat. She'll sit on his lap when he's at his desk, or in the living room. Or pretty much anytime. I think she's crept onto my lap 3 times. (We've had her for 11 years...) I know where I rank :-)