Wow!
I love it! The new Knitty is great! I'm going to be pondering
Jenna's
article
on making sleeves fit for a while. Partially because I can tell at a quick scan that its a great article - and partially because its pages of wonderful material...
Anyone for a
Blaze
knitalong? I love it!! Here I was, almost jumping on a Klaralund bandwagon. And, still planning on joining the Lara-along in October. But, this pattern just calls to me. (The orange doesn't, but the neckline... yum)
In other news, I've finished the knitting of the baby blanket. I wove in ends this morning, will be blocking it tonight, taking pictures in the morning and gifiting it tomorrow afternoon. But I finished it on time!!!
And, I have progress updates on my other 2 projects:
Kersti front is about 8 inches high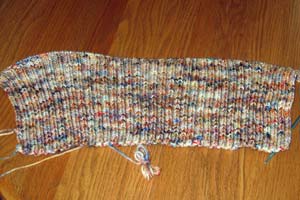 And..
Charlotte poncho is coming along...