(Warning - long post)
Well. No, I'm not dead, and I didn't drop off the face of the earth either... I just have a problem taking pics of my knitting. Which leads to a psycologically difficulty writing about knitting. Which is really too bad, cause I've been rather productive.
Since just before Christmas when I posted last, I've survived most of a Minnesota winter... (I hate winter), got a great new fibre art tool, took a vacation to San Diego, celebrated not only my birthday but the birthdays of both my children, and finished the projects from my kids knitting sessions. Granted, I finished nothing else. I am terrible at finishing projects - much of the reason I'm trying to keep a blog. Much knitting, little finishing.
New Toy!
My wonderful husband got me this for Christmas: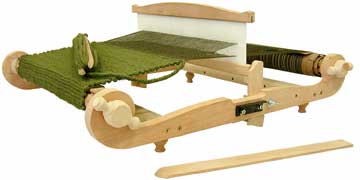 Its a Kromski Harp rigid heddle loom. I love it!! Its wonderful. The best part is it folds for easy storage. (I will admit, I had dropped a couple large hints, including links to a couple online shops that carried it.) He faked me out big time though - less than a week before Christmas he sat at dinner telling me he had to do some shopping for my Christmas present... so my hopes of getting a loom were dashed. But the surprise was all the greater on Christmas morning, let me tell you!!!
San Diego
We took the family to San Diego for New Years. My aunt recently moved out there, and we decided to go visit. My grandmother was there also - spending the winter in a warmer place than Minnesota. We had a very nice New Year's Eve with my famliy, and visited normal tourist stuff the rest of the week we were there. We stayed in a condo on the beach - very nice. The kitchen was the best part - essential when travelling with a 22 month old... We went to the San Diego Zoo, (amazing) Legoland (best part is the Miniworld - lego models of known buildings such as the White House, Downtown New York, SF, etc) , Sea World (not worth the admission, in my opinion), and Disneyland.(more about that later) And, we found out that after the Tournament of Roses Parade, the floats are on display for the next couple days in a park in Pasadena, so we went up there and had a GREAT time. The TV broadcast does not do these floats justice.
The last day we spend in S.CA we went to Disneyland. I love Disneyland/World. I think they do a great job herding a great many people in and out and around, and stay cheerful while doing so. This was the little one's first trip (she turned 2 March 1). She loved it. We went on a Pooh ride 3 times, and she almost let the moblie Pooh character touch her when we got pics taken. Also, the crowd wasn't bad at all. Even better - this was the day before the Big One's birthday (she's 10 now - ouch!). She got a Birthday sticker, and all the cast members at the park wished her Happy Birthday. Which seems to me to be a great way to spend your birthday! (Did you know they change Small World for Christmas? Its wonderful - the decorations are cool, but they add in Jingle Bells instead of never ending Small World... and the last section had Deck the Halls mixed in. It was TOO COOL!)
So, on vacation - esp. while driving all over S.CA, I worked on this: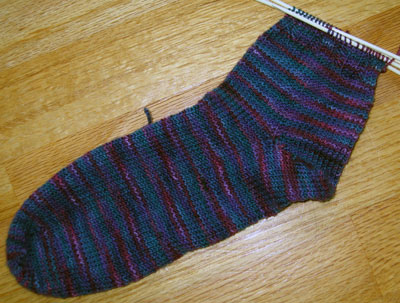 Its knit from a Koigu-like yarn from possibly Cherry Tree Hill.. but maybe Jocyln's Fibre Farm. I forget, and I lost the ball band. Its using
Wendy's
toe-up short row heel pattern. Great pattern!! Maybe I'll finish it sometime ... and make its mate!
Rest of updates
So, since the beginning of January, I've continued work on the Panda sweater - its blocking and ready to assemble this weekend!! See!!
I'm rushing this one through at this point because the baby turned one in November!! Fortunately, the sweater is sizing out to be between a 3T and 4T and large on my good sized 2 year old. It will be fine on the relatively smaller 15 month old for quite a while.
In addition, I've scrapped the fan blanket. Remember - it looked like this: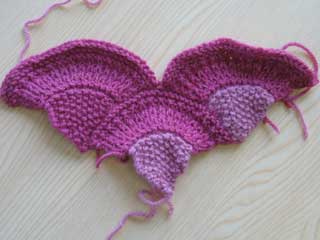 Instead, I'm making a blanket using Elizabeth Zimmerman's Pi Shawl concept - up to making one of the sections Gull Wing Lace.
Its turning out well - my mom loves it. (I'm less than head over heels about it, but I think my cousin will like it) However I either didn't buy enough yarn, or seriously lost the other light pink skein. I ran out 26 rows into a 48 row section. So... I'm stopping and adding a largish lacy border out of cream. The cream lace border was always in the cards, I just was planning a smaller one. This is stuck until I pick an edging pattern - and I have quite a collection. I need to finish this one soon, because the baby just turned one... Ack.
Then I finished the stuff for the kids (see previous posting). They turned out pretty well... but I was in such a rush to get them back I forgot to take pictures. Since they didn't go back until early this week, you may understand the rush... I procrastinated big time there.
So, to reward myself... and catch up on these baby things so I can knit things for myself again - I started a pair of booties.
I was inspired by
Amber's
blog - realized I had that book, and giving Duck Slippers would be terribly appropriate... (you want to know why... click
here
. So yesterday I knit this much, and should have the first one knit up tonight. I'm planning on 2 pair - one for the 4 week old baby, one for the baby born yesterday. I think I'll add in a copy of
I Wish That I Had Duck Feet
.. don't remember that one? Click
here
.
Wow. Thats a bit - and I know I must be missing something or another. Oh, yeah. I've got another baby blanket on the needles as well... but that one is destined to be ripped out and restarted with a slightly larger needle, as I'm not happy with the hand of the fabric. That is a simple feather and fan blanket, though. It will match the fish blanket I made that baby's older brother pretty well... in a nice navy and white.
If I get these baby things done, I can start my sweater from Viking Knits... I can't remember which one I bought yarn for - but I'll dig it out soon! Maybe even before Winter is over. (Winter can't be over too soon for me....)