pics
Thanks again on the feedback about the blog - we'll see how the Blogger comments work for now - or I'll finally figure out how to get the BackBlog comments working in this template.
And...
Some quick pics of what I've been up to lately...
Here's the Kersti baby blanket:
It's looking pretty good - I can see the line where the skein changes, but I'm not sure how many others will see it... I love this yarn - so I bought: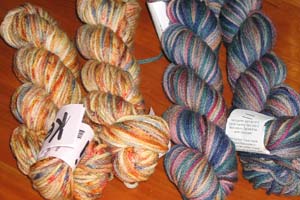 The bluer one is for a project to be named later (possibly a short-sleeved top, or another blanket... we'll see) The khaki-based one is for my Raglan Body Hugger sweater from the Purl Stitch. Isn't it
wonderful
! :-)
Also from the Boys... my Charlotte combo. It was called Lucian, and I love it! (And, Rob sent out the pattern so I'll get it early next week....)
That was my order from the Boys... I got this from Yarnmarket.com (really quick shipping... and a site with good feedback on availablity)
These two yarns together are going to be something - the hank is Noro Hana Silk that
Wendy
has just finished a scarf from. I'm still on the fence on whether these two yarns look good together - but am leaning toward them looking good. I think this will be either a cardigan with the silk on the body, and the Pansies for sleeves and trim, or a short-sleeved top with the Pansies as the yoke and the silk as the body. Or vice versa...
And this: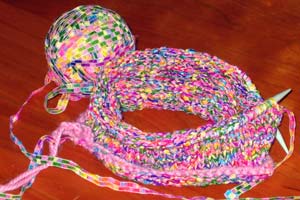 I picked up at my LYS. I'm knitting the Joanna bag from "Two Old Bags" It looks like the Lucy bag, but not felted. The yarn is pretty cool, it looks like this close up:
And, the Big One is knitting this scarf:
Whew.