still here... really
OK. I'm here - really...
Now, with Pictures.
Of course, everything I was knitting last week went on hold because I am a FICKLE KNITTER. I decided my friends little girl needed a hat and mittens to match her Leopard Print coat. (yes, the same little girl with the panda jacket). So, I went yarn shopping, and got some Wonderful Debbie Bliss Cashmerino Aran yarn in a Taupe and black from my LYS, and ordered white from
Yarn Market
. Yummy yarn - and machine washable. What more could you ask for?
I took these pictures on Wednesday, intending on posting then - so I'm much farther...
The hat is done now - I was waiting for the white to add the I-cord trim and ties.
This mitten is done, and the other is started.
Of course, I want to give these on Saturday - any bets on whether I 1) get the other mitten done and 2) decide to rip out the first mitten because its too big in the hand by about an inch?
Oh - hat is the Heart Hat from EZ's Knitting Workshop. I've made a bunch of these - its a great pattern. And the mittens are from Big Fish, Little Fish by Jil Eaton - picked solely because they were kid-sized two needle mittens... and I couldn't find a complete set of DPN's in the right size. ( Sigh.) Great easy mitt pattern, though.
Over the weekend, I also started this: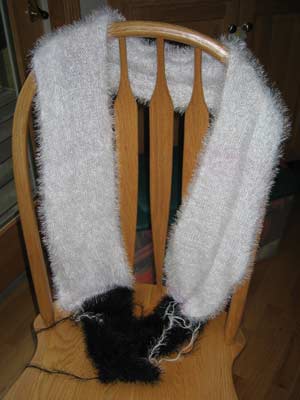 This will have a hood attached, and the black ends will become fingerless mitts. Its a Panda Hoodie Scarf for my sister - who fell in love with the Panda Sweater last year. This I knocked together on my knitting machine. I started the hood, but it was too small - and haven't gotten back to my machine since. I like it in small doses... when it behaves. I'm so tempted to permanently attach it to a board so the joins don't shift. But, what do I expect for $80?
After I finish these, my mom wants a Charlotte Poncho. Which I may or may not make... depending on whether I can find yarn I think she'd like. And, I need to make something girly for the other baby girl who hasn't gotten anything yet. I haven't found a pattern to fall in love with yet.
I need to post more often. I keep having stories I'd like to tell, but run out of space. Again, today... maybe soon.