Wednesday, November 30, 2005
Tuesday, November 01, 2005
Warning - picture heavy post ahead.
Well. I keep dropping off the face of the earth, don't I. Work has been... well... distracting.
I did manage to knit, in between rounds of Soulcalibur 3 (hee, hee!) - and Halloween. Can't forget Halloween.
My knitting kids at church are SO cute! Still have all 14 interested. Sabrina is a great help. One girl has a 3 foot long bandage going, a couple others had pieces that were growing horizontally almost as quickly as they were growing vertically (we started a couple over today). One boy is having lots of issues, but the other 3 are moving along just fine! Its so much fun!
I finished my pair of fingerless gloves: See?
Here is detail on the back closure.
These worked out pretty darn well. Very simple, but rather cool.
Halloween
Halloween was a good time around here - Sabrina came up with 2 costumes. Her school had a rule against Cross-dressing, so we decided it was best for her not to go as Mario to school - hence Mad Scientist Sabrina!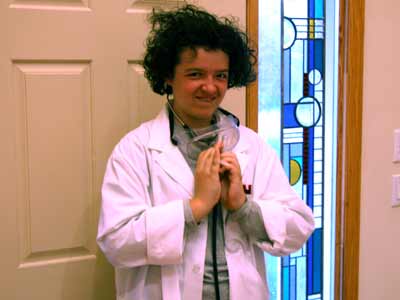 Then, on Monday we had Mario and Sleeping Beauty. I made the Mario hat - isn't it cool?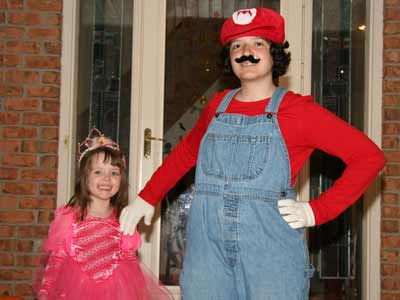 Rebecca had a GREAT time trick or treating. She's so cute. So three, but so cute. Sabrina went out with friends, and brought home 5 pounds of candy. That's right - 5 POUNDS. Eeek!